Canyoning Adventure in Waterfall Country for 4hs
SKU: 69793
Description of Canyoning Adventure in Waterfall Country for 4hs
The nature of the South of Wales is calling you and challenging you to traverse its rivers and waterfalls.

With the help of our professional guides, you will be more than happy to accept this challenge.

The test consists of a canyoning adventure in the Waterfall Country located in Newport. This experience will last for four hours of incredible fun. You will have the opportunity to do everything from diving into natural pools to sliding down rapids to crossing waterfalls. We know that this sounds like some extreme activities, but you will be safe with our guidance and professional equipment!

We will provide you with wetsuits to keep you warm through the journey, a lifejacket, a helmet, and incredible footage so you can go back and see how wholesome your experience was.

You should bring a good pair of trainers, swimsuits, shorts to put above the wetsuit, a towel, lunch and a change of warm cloth for after the adventure.

Are you going to accept nature's challenge? Because we have everything ready for you canyoning experience in Newport.
What does the activity include
headgear
fitted wetsuit
buoyancy aid
professional instructor
How long the activity lasts
Your canyoning experience in Waterfall Country will last for four hours.
Rewards!
£1.35
Recover the 3% value of each purchase. Rewards can be used in future purchases
Questions and answers about the activity
Map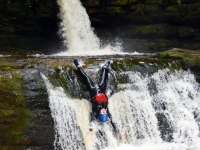 Canyoning Adventure in Waterfall Country for 4hs
19 Coolgreany Crescent Newport (Town)